| | |
| --- | --- |
| Cloud Architecture | Key Use cases and Capability |
| HA and redundancy | Build HA and DR |
| Build offload Capacity | For Capacity burst create on the Cloud |
| Cloud Architecture | Hybrid Cloud and VMware Cloud Engine |
| App Modernization | Agility with Anthos |
| Expand Infrastructure | Expand , Migrate , Retire using App migration tools |
As part of solving any Organization challenges and create new business opportunities "Cloud" is at the central stage
Cloud first as top priority for all major Telco's and Enterprise as a way to unfold future 
A right Cloud strategy is not just to save cost but to create value by untethering IT from low value mundane tasks towards innovation and creating value through new capability , tools and services .
Since there are so many solutions and offerings it is important to select an architecture that allows customer to select the best of both worlds that also solves App migration and co-existence issues . Finally as architect It's about understanding the pros and cons of the options and making the right architecture choices .
Where to begin?
Understanding your starting point is essential to planning and executing a successful application migration strategy. Take a comprehensive approach, including not only technical requirements, but also consideration of your business goals (both present and future), any critical timelines, and your own internal capabilities. Depending on your situation you might fall in any of the below categories as it relates to time-to-value. There is no one size fits all approach to migration but the key here is to know that whichever path you choose, there is always a way to build on top of that and continue to take more advantages of the cloud in an incremental fashion.
How to evaluate Different Clouds
With 100's of services across a number of big Players including below
AWS (Amazon Web Services) from Amazon
Azure from Microsoft
GCP from Google
IBM Cloud from IBM
Ali Cloud from Ali Baba
OCI (Oracle Cloud Infrastructure) from Oracle
Its always a difficult choice how to select which use case is best for which and to remember their services . Below is a quick cheat sheet that may be of help
AWS Services
Azure Services
https://azure.microsoft.com/en-au/services/
https://azureperiodic.data3.com//
Google Cloud Services
Google Cloud Cheat Sheet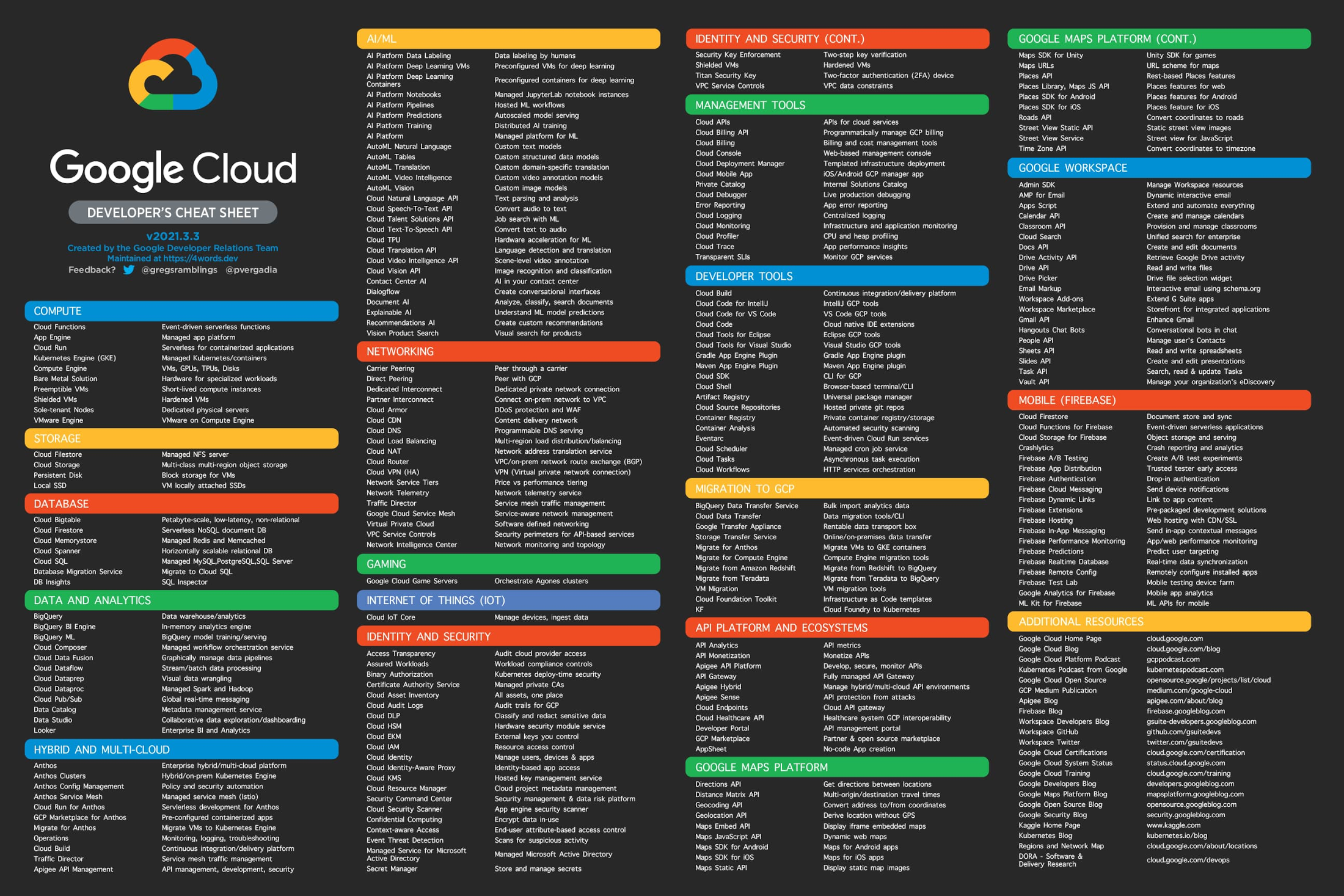 There is a excellent blog summarizing some key aspects on GCP including deploying your VMware Cloud (VCP) environment on Google Infrastructure .
Below is one quick video on Data and how it makes easy with Google Data Fusion
For Cloud Migration can refer to below with focus on some key use cases.
https://cloud.google.com/blog/topics/developers-practitioners/google-cloud-migration-made-easy
References:
Publicly available information